Because of its ease of use and flexibility, the Microsoft Office suite is the most frequently used office productivity software. Choosing the finest operating system will be determined by the availability of the greatest productivity software. Linux distributions are now more adaptable and offer a wide range of productivity software solutions. Today we will talk about the Best Free Office Suites for Linux.
However, Microsoft Office is still unavailable on Linux. No need to be concerned, dear Linux users; there are a number of excellent free office suites available on the market that are extremely useful and can be used as a substitute for Microsoft Office.
Top 10 Best Free Office Suites for Linux in 2021
All of the software on this list is free to use and has capabilities similar to those found in Microsoft's Office Suite, as well as documents that are compatible with it. Some are desktop applications, while others are browser-based, so you may pick the one that best suits your needs.
Without further ado, I present:
FreeOffice 2021 is a free office suite that comprises FreeOffice TextMaker, FreeOffice PlanMaker, and FreeOffice Presentations, as well as a word processor, spreadsheet app, and presentation app. It's a great alternative to Microsoft's suite of tools, but it's missing an email client and calendar software. On the plus side, you may use this program for professional purposes and it has a familiar Microsoft Office interface.
Google Docs, Sheets, and Slides are Google's answers to clients who are constantly on the go. It has a modern user interface and almost all of the capabilities needed to create and modify text documents, spreadsheets, and PowerPoint presentations. It doesn't include a mail or calendar app, but you may use Gmail, Inbox, and Google Calendar instead. Documents created in Google Docs, Sheets, and Slides are compatible with Microsoft Office and other office suite programs. It is one of the Best Free Office Suites for Linux.
LibreOffice is the most popular office suite app among Linux users, and it's not just because it's a great alternative to Microsoft Office Suite, but also because it's fully free and open source. It has successfully established itself as a community of culture, cooperation, and sharing, rather than merely an app. If you ever have any problems with the platform or run across platform-specific flaws, you can rest assured that your problem will be resolved.
Microsoft Office Online is the company's online solution for customers who are constantly on the go. Even while it doesn't have all of the functionality of the desktop version, it does a good enough job of replicating it in the cloud. It works in any current browser and, in addition to providing access to Microsoft's suite of programs, it is completely compatible with its desktop counterpart and other free office suite software.
Open365 is a collaborative office suite that is completely free and open-source. It runs in your browser and provides comprehensive support for all of the desktop apps it includes. These apps include the Writer, Calc, and Impress apps from the LibreOffice suite, as well as Kontact (for email), Seafile (for cloud storage), and GIMP.
Run the Open365 installer on your PC to install all of the required components (Docker, Docker-compose, and Python3), and everything should go smoothly from there. On its GitHub website, you'll find installation and usage instructions. It is amongst the Best Free Office Suites for Linux.
WPS Office for Linux is arguably the ideal office suite tool for consumers looking for a visually appealing, lightweight, and yet functional app. It has a modern user interface, fast speed, and practically all of the capabilities found in Microsoft Word, Excel, and Powerpoint.
Only the three most significant office apps are included in the free version, and their papers are perfectly interoperable with other office suites. It's also available for Ubuntu, OpenSUSE, CentOS, and Fedora, as well as other current Linux distributions.
Feng Office is a set of integrated office apps for teams, corporations, and organizations. Its honed workflow and app choices make it simple to log time, produce documents, reports. And workspaces, as well as monitor and manage projects, clients, workflow processes, and tasks.
It's been dubbed the world's most powerful business platform, and its free Community Edition comes with all of the essential apps needed to manage a business. If you want to manage your business, team, or organization, you should look into it.
KDE developed the Calligra Package, an open-source suite of graphic art and office software. Braindump, Flow, Karbon, Kexi, Plan, Stage, Sheets, and Words are among the included programs.
ONLYOFFICE is an open-source online office suite that allows you to manage documents, projects, teams, and clients all in one place. This app has a gorgeous, modern user interface with nearly all of the capabilities found in the other suites.
It's great for creating and organizing papers and reports, as well as maintaining privacy and security and managing workspaces. Among other user options, you can operate ONLYOFFICE on a private server for free. It's compatible with computers (excluding macOS), tablets, and smartphones, ensuring a consistent experience across devices.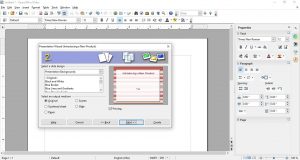 Last but not least, there's Apache OpenOffice. It's a free and open-source office suite that allows you to create and manage reports, documents, tables, smart graphics, and presentations.  Various contributors are constantly improving the project, which has successfully satisfied millions of individuals all across the world owing to the quality of time and thought they put into it. It is the last name on our list of the Best Free Office Suites for Linux.
Final Insights:
That concludes our list of free the Best Free Office Suites for Linux, each with its own set of advantages and disadvantages. You've probably used a few of them before; how was your experience with them, and which ones do you believe deliver the best results? Please send us your suggestions and feedback. Goodbye!