Linux users are lucky as they have a broad range of options while choosing the Linux distributions based on their needs. The developers keep updating and creating new distros for their users based on open source technologies. This article is dedicated to Linux users, and we will provide them with a list of the Most Beautiful Linux Distros that will surprise them for sure.
Read our whole article if you want to replace outdated Windows display, as you will be deciding to install some Linux Distro mentioned on our list.
Top 10 Most Beautiful Linux Distros
Our experts have created a list of the most beautiful Linux distros that you can use right now. Let's have a look at the list given below.
Elementary OS is at the top of our list of most beautiful Linux distributions and is amongst popular Ubuntu derivatives. It provides macOS-like looks and claims to be a "fast and open" replacement for macOS and Windows. The best thing about this Linux distro is that it is developed for beginners, and users looking to get rid of Windows must try it. Young developers who are new open-source world can trust this operating system which begun as a set of themes and apps designed for Ubuntu and now dominating the market.
Pros:
Provides macOS-like look
Very light and effective DE
The selected collection of applications
Kubuntu is specially designed for the users who weigh customizations over everything and aims to serve the best. IF you look at the KDE, it is very flexible, and you can get an idea from its name that it is also an Ubuntu-based distro.
It never fails to surprise me as everything it offers, from the UI to the animations, is well maintained and makes it superior to others. Whenever you launch it, you'll be greeted with a splash screen, and then a beautiful wallpaper will leave you in splits.
Pros:
Very customizable KDE desktop environment
Extreme stability
Straightforward tool
Feren OS is Linux Mint-based distro that is undoubtedly amongst the best most beautiful Linux distros. It arrives with a Cinnamon desktop environment and claims to deliver an experience that'll match the arts of macOS and Windows operating systems.
It is much similar to Windows, so you will find it familiar even if you have not used it. Feren OS offers a Theme Changer tool that enables you to play with icons, setup, background, and more.
Pros:
Frequent desktop, start menu
Reliable, flat design
Improved looks, beginner-friendly
It is another name on this list that aims to offer the best experience possible for users looking to replace old fashioned Windows OS. Linx Mint is popular for the Cinnamon desktop environment, which is best for a reason. When it comes to the looks, it might be similar to Windows XP, but the backing of Ubuntu makes it stronger. We would recommend this OS to newcomers as it is easy and provides you all the necessary features.
Pros
Great distro for Windows users
Easy to use
Cinnamon Desktop looks and feels great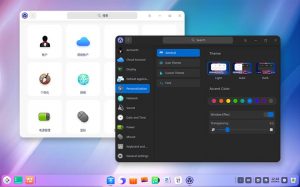 Deepin Linux is another open-source Chinese-based Linux distro that commits to providing a clear and visually attractive interface to Linux users. You can try this OS for sure if you are a macOS user, as the new update takes a lot of inspiration from Apple's macOS. They have implemented the idea in a great manner and comprises a homegrown desktop named "Deepin Desktop Environment," or DDE.
What makes it beautiful and different from others are Hot Corners and Gestures that make your Linux using experience best. The unique thing is, it includes Deepin Store that provides many applications that aren't free in the Ubuntu Store.
Pros:
Updated features
Visual fascination
Comes with Deepin Store
The uncomplicated and easy-to-use installer
Solus OS is the name on this list which is quite different from all others and is getting popular day by day. It has progressed a lot in a very short time and provides you the efficient features with a flawless look. Users adore this distro because it is amongst the most breathtaking Linux distros, courtesy of its Budgie desktop environment.
However, they have not promoted this distro much or might not be the best for developers but still offer plenty of built-in tools for developers.
Budgie desktop is built on top of GNOME, but it doesn't feature Shell.
Pros:
Amongst the fastest-growing new distros
Includes Budgie desktop
Offers support for Snaps
Very efficient tools with unique features
Many users dont know about this OS which is Gentoo Linux-based distribution created by Google. So if you are a fan of Google Chrome, you can try this to provide you Google Chrome desktop environment and is compatible with web applications.
Pros:
Plenty of low-cost Chromebook choices to choose from
Excellent for web-centric workloads
It is always-synced Google account on all devices — it's only a positive if you prefer that kind of thing
Nitrux is the latest Linux Distro, which is a decent option for Linux users in 2021. It is based on the Ubuntu unstable dev branch and delivers the Nomad Desktop environment. We are sure it will catch your attention in just a glimpse, and it is developed by the same team behind the current Nitrux distribution. The Nitrux OS is a rolling release-based model which is compatible with 64-bit systems.
Pros:
Includes custom-made apps
Exquisite desktop UI
System76's Pop!_OS might be lower in our list, but it still beats many Linux distros because of its popularity and attractive interface. It was developed after Canonical decided to abandon Unity and move to GNOME.
ThoseThose users who are bored with your current desktop and want to use some nice-looking Linux distro must give it a try.
Pros:
New look with a minimalist approach
Peaceful color themes
Created for developers in the computer science field
Manjaro is the last name in our list of most beautiful Linux distros famous for its versatility, speed, great looks, low resource usage, performance, and more. It is an Arch Linux-based, beautiful open-source operating system that makes your Linux using experience a great journey.
Pros:
A handy and fast-growing community
It is an effective distro that's simple to use
Durable and lightweight
Conclusion:
We have created a list of the most beautiful Linux distros to allow our users to replace the old desktop OS. You can choose anyone based on your requirements and needs, dont forget to send us your suggestions and feedback. Goodbye!