Many users are not aware of Windows Task Manager, whose job is to perform killing processes. It is a limited tool and provides a few features that dont allow use control every function on the computer. Thars why we have brought this exciting topi about the best Windows task manager alternatives that you must install on your Windows operating system.
Today smartphones have replaced desktop computers, as they can perform all the tasks, but still, we have Windows computers at home or office. Using this tool, you can always check on what your computer's up to.
However, it's not an efficient tool, and users may look for alternatives that are multi-tasking. This article will help Windows users a lot read our whole article to know about such options.
Top 10 Best Windows Task Manager Alternatives
Our experts have compiled a list of the best Windows task manager alternatives based on research and thorough analysis. There are so many tools available on the internet, but they are not reliable. Let's have a look at the list given below.
Process Explorer is at the top of our list that is the potential to replace Windows Task Manager. The best thing about this tool is its user interface which is very easy to use. You can see all the processes in the left pane, and it enables users to extend them to see their related processes. From the same left pane, users can terminate or suspend specific operations with ease.  The Process Explorer also shows graphs allowing you to analyze the consumption of system resources which is a great feature.
Process Hacker is the most modern tool to replace Task manager and is knows for its rich features. It even shows more information than Process Explorer mentioned above in our list. This tool enables users to see all running services, network connections, disk activity, and more. You can jump to any application process courtesy of the search bar on the top-right corner and also utilize this tool for applications using network connections. We recommend you to use this open-source application, which allows you to customize functionality by plugins.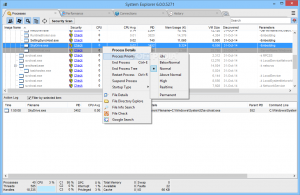 System Explorer is amongst the powerful alternatives to Windows task manager thanks to its modern features. It arrives with a wide range of features to increase your system security. Using this tool, you can see the per-process CPU usage history and create files quickly. This tool allows you to compare Registry snapshots against each other for troubleshooting and compare file and registry snapshots with each other for better results.
Task Manager DeLuxe (TMX) is a MiTeC System Information Component Suite-based tool that brings modern features out of the box. The best thing about this tool is that you can use it without losing your pocket, and it's portable. Users adore this tool, as they can run it directly on any PC without any installation requirements and offer a very user-friendly interface. You can stop or start all the processes you want, as it lists them all in front of you and allows you to manage startup applications.
Daphne is one of the best Windows Task Manager alternatives, which is exclusively designed for Windows 10. It is a very lightweight tool and shows you all the running processes whenever you want and displays CPU and memory usage with the active processes. What makes it different from others is its feature to schedule a process to be killed at a particular time. You can also use this tool to see the real-time CPU, RAM, and Disk Usage in a graph which is a remarkable feature.
Security Task Manager is a task manager to serve all the users, even beginners or experts. We recommend installing this tool on your Windows operating system that shows you the process running on your CPU in real-time. The unique thing about this tool is it alerts you that the running process is dangerous or not, so you can determine to kill the process.
If you want to get rid of Windows Task manager because it is sluggish or corrupted, look at  Task Manager Fix, which brings solutions to this issue. You can give this tool a try because it doesn't charge any fee and fixes your default file manager without hassling around. In case your Task manager is disabled or attacked by malware, this tool can fix this problem in seconds.
It is another name on our list which can serve as a decent alternative to Windows Task Manager. AnVir Task Manager Pro comes with features like tabs listing startup items, processes, services, log entries, apps, and more. With AnVir Task Manager Pro, you can kill the stubborn process which doesn't want to go from your PC without hassling around.
WinUtilities Process Security might be lower in our list but still provides more features than all other names on this list. What makes it superior to others is that  WinUtilities Process Security shows almost every running process on your computer without any unnecessary details. Not only this, but using WinUtilities Process Security, users can determine which processes are required to run. Users can try this tool which enables them to stop any undesired processes without consuming much time.
Yet Another (remote) Process Monitor is the last name in our list of best Windows Task manager alternatives that is more than a task management tool. Last but not least, it provides them an easy-to-navigate interface, which even beginners can use without any difficulty. If you are looking for a basic task manager that allows you to kill the interrupting process, give Yet Another (remote) Process Monitor a try.
Conclusion:
We have created a list of the best Windows Task manager alternatives for our readers using the Windows operating system. All the names mentioned on our list provide different features, and you can choose any one of them based on your requirements and needs. Dont forget to send us your suggestions and feedback. Until the next time. Goodbye!