With the evolution and innovation in technology, many old-fashioned and manual working methods have vanished. Nowadays, most people prefer working on smartphones and computers to perform daily routine tasks. Our smartphone works as our assistant and helps us perform most of our work.
However, it is not prohibited to use smartphones and computers, nor is it unethical to utilize them for your work. But like they say, excess of everything is bad, and over usage of this tech devices may affect your eyes badly. The blue light can be why smartphone and computer screens emit blue light, impacting our brain. It compels our brain cells to assume it is daytime whether you are working at midnight.
As health is the main concern of every user, eyes are the most sensitive part of the human body, finding suitable solutions. That's why our experts have brought the interesting best night mode apps for Android users that you can download right now.
List of Top 10 Best Night Mode Apps for Android
We have created a list of the best night mode apps for android that may help you save your eyes from blue light. Let's have a look at the list given below.
Twilight is one the best night mode apps for android available on the Google Play Store. It is a blue light filter application that filters the flux of blue light released from your Android smartphone screen. This feature to limit the blue light serves greater eye health and lowered eye irritation, especially at night times. The Twilight app is compatible with all types of screens, including the latest e AMOLED display screens.
Darker, like its name, is an app to darker your smartphone screen and allows you to reduce your phone's screen brightness to a remarkably low level. It's like a screen filter which is a lightweight Android app and doesn't acquire much space on your device storage.  The best thing about this app is it is free and decreases your eye stresses by reducing your screen's brilliance.
Darker works well on all types of screen displays and offers different color filters that you can apply anytime.
As the name suggests, this app focuses on the reduction of blue lights emission from your smartphone screen. If we look at health experts' analysis, they say that blue light strikes a person's sleep quality. This app is there to decrease and control the blue lights coming from the smartphone screen. It offers you to adjust the filter intensity, save power, dim the screen to the maximum level, and more. The best thing about this app is it is free and doesn't show any ads to disrupt your experience.
f.lux is one of the best dark night mode apps for Windows 10's and is available on the Google Play Store. However, it failed to deliver on the Android platform, but you can still give it a try. The downside of this app is that it needs root access to work; otherwise, it is useless. All you need is a rooted device if you want to use this app.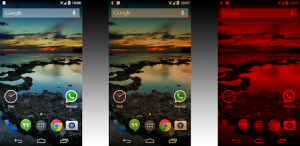 This is another app to limit blue light on your smartphone screen and adapts the colors based on the sun's site or system configuration. It is an incredibly accessible app and is compatible with all versions of Android. CF.lumen offers features like multiple color filters, and every filter was customizable, which makes it better than others.
If you are unable to decrease your screen brightness with default settings, use this app to reduce as much illumination as you want. The Night screen app utilizes an overlay filter that serves as a dimmer to blacken the screen. The most fantastic thing about this app is it assists in evading headaches and eye pain in a darkened conditions or at night. You can download this app for free and doesn't include any annoying ads.
It is one of the best night mode apps with intelligent sensors that adjust your display's brightness based on the environment. The moment you step into a dark room, Lux will automatically reduce your display's brightness. However, it may not provide you a better preview of texts but will give a lot of relief to your eyes by reducing eye strains.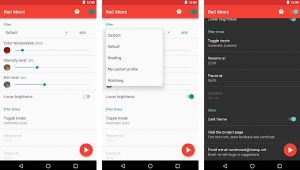 Sfilter that offers you a Blue Light filter or Night mode to apply on your Android smartphone anytime. This app arrives with a pack of features and allows 12 different colors to pick from an optimized filter. Some of the essential features enable users to adjust the color balance from the notification bar, navigation bar, and more. You can use this app for free without losing your pocket, and it doesn't show any ads to disturb you.
You can get an idea from its name that Lower Brightness Screen Filter is an Android app that is designed to keep your eyes safe. The Lower Brightness Screen Filter app allows a user to reduce their brightness to 10% only. It also adds a symbol on the notification bar to adjust brightness quickly whenever you want.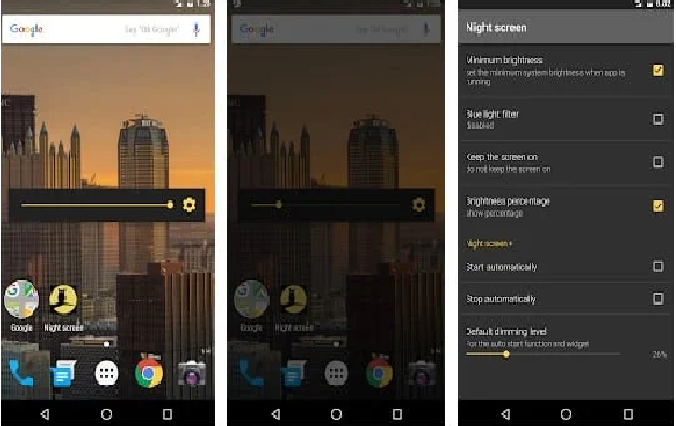 It is the last name in our list of best night mode apps for Android, and most users adore it for its helpful features. This great app improves color contrast, decreases color distortion, and preserves your eyes by filtering blue light released from your Android smartphone screen. Using this app, you can change the color temperature, screen brightness, and color filter intensity with ease.
Conclusion:
Since blue light coming from your smartphone screen can be dangerous to your eyes, it is better to install some appropriate apps to eliminate blue lights. We have created a list of best night mode apps for Android to ensure your health remains the same. You can choose anyone depending on your requirement and the environment you live in, kindly send us your suggestions and feedback. Goodbye!