It's a natural human propensity to perceive information better when it's presented visually. Let's use the example of a bar or pie chart depiction of data against tedious and clunky spreadsheets. Which one would you choose? If you want to take a different approach, instead of using the same old dull spreadsheets and excel, you should use some Best Data Visualization Tools.
Data visualization is a crucial aspect of identifying hidden layers and patterns in data. Line charts, bar charts, maps, and scatter plots are examples of data visualization charts that work miracles in processing information for you to understand without any complexity. This article will show you the top ten data visualization tools you should use.
Top 10 Best Data Visualization Tools of 2021
Let's have a look at the list given below.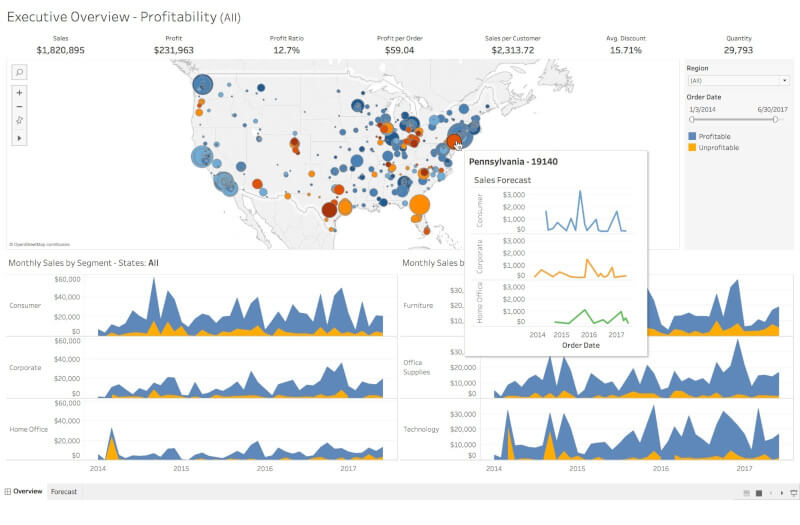 Tableau is our first option for clean data visualization, as it can be used by scientists, analysts, statisticians, corporate experts, and others. This simple tool produces results quickly while still offering appropriate security to alleviate any concerns.
The tool enables users to clean, prepare, and format data before creating visual content in order to produce actionable insights that can be shared with others. With a 14-day trial, this product is available to individuals, business teams, and organizations. It is one of the Best Data Visualization Tools.
Looker is a data analytic tool that gives you a lot of information. It makes use of a real-time dashboard for data analysis, allowing you to make quick and accurate business decisions based on data visualization.
This tool integrates with Snowflake, Redshift, and BigQuery, as well as over 50 SQL dialects, allowing you to connect to several databases with ease. It can also be shared with anyone and files can be exported in any format. To find out how much it costs, fill out a request form.
Another business intelligence and analytics application, Zoho Analytics, allows you to create data visualizations in a matter of minutes. Access data from a variety of sources and mix it to create multidirectional data visualizations with Zoho.
This application includes a smart assistant named Zia, which was produced using AI (artificial intelligence), natural language processing, and machine learning. You can use Zia for any questions you may have.
You may use Zoho to publish and share reports with your colleagues, as well as make comments and start conversations. Additionally, Zoho Analytics files can be exported in a variety of formats, including Excel, PDF, Spreadsheet, Word, and others. Zoho has a basic plan that costs $34.1 per month.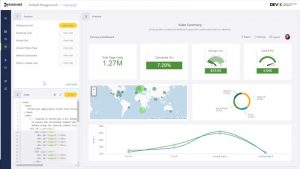 Sisense is a data visualization application that uses a business intelligence architecture to provide different tools for data analysis while also simplifying complex data in order to gain insights. It takes a data-driven approach to data analytics, resulting in top-notch business data analytics products. The tool is simple to set up and use, taking only a few minutes to install and providing immediate results.
It also allows users to export files in many formats such as PDF, Word, Excel, PPT, and others, as well as providing full-time customer help in the event that they encounter any problems. You can get a price quote by filling out a form.
IBM Cognos Analytics is a data analytics platform based on artificial intelligence. It allows you to see and analyze data in order to get actionable insights. This application is really straightforward to use; even if you are unfamiliar with data analytics, you can quickly understand the data using it in simple terms. It allows you to share data in the cloud with others via email or Slack.
You can also merge related data sources into a single one by importing data from numerous sources such as CSV, spreadsheets, and the cloud. This product comes with a free 30-day trial and a monthly plan that starts at $20.87.
Qlik Sense is a data visualization solution that combines SaaS on a private or on-premises cloud with an artificial intelligence system and a multi-cloud architecture to assist businesses to transform into data-driven corporations. This application allows you to load, integrate, visualize, and study data in real-time, regardless of its size.
All of its visuals, charts, and tables are updated in real-time to reflect the current data context. With drag-and-drop capabilities, this application provides data insights to assist you in creating analyses. It is available for a free 30-day trial.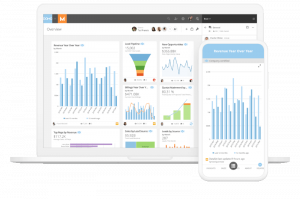 Domo has a number of data visualization tools that provide you with an interactive platform for conducting data analysis and creating eye-catching graphics that help people comprehend your motivation. It allows you to work on images, cards, and messages on the dashboard to guide others flawlessly. You may use the dashboard it comes with to gain real-time data insights. This application comes with a free trial option that you can use to try it out and make further selections depending on its features. It is amongst the Best Data Visualization Tools.
If you're seeking a way to develop data-driven business intelligence, Microsoft Power BI is the ideal tool for the job! It provides self-service analytics for analyzing, sharing, and aggregating data in a useful manner. Hundreds of images are included, as well as artificial intelligence capabilities and Excel connection.
This cost-effective solution costs $9.99 per month for a single user and includes a variety of support features such as forums, live chat, and faqs.
Klipfolio is a Canadian firm that uses Artificial Intelligence to provide the best data visualization solutions on the market. Connectors allow you to access data from a variety of sources, including files, web services, spreadsheets, databases, and more. It also allows you to build drag-and-drop visualizations while selecting options like graphs, charts, and scatter plots.
It gives you the ability to use tools to build complex formulas in order to tackle data issues and concerns. Klipfolio offers a 14-day free trial and a monthly fee of $49 for its basic business plan.
The SAP Analytics Cloud is a business intelligence and data analytics platform that allows you to analyze and visualize data. Advanced modeling techniques in this program alert you to data mistakes while classifying numerous data dimensions and measures.
This SAP Analytics Cloud provides intelligent transformations for improved visualizations. It provides comprehensive customer satisfaction by using artificial intelligence and language technologies to handle consumer-generated inquiries. This tool is available to trial for 30 days for free, and its business intelligence pack costs $22 per month.
Conclusion:
Here we conclude our list of the Best Data Visualization Tools. We recommend trying the demo or trial version of the program to explore its capabilities and potential before making a final purchase to determine whether the tool you want to buy can meet your needs. You can send us your suggestions and feedback. Goodbye!