High-quality images are those that have high resolution, sharpness, and clarity. They are visually appealing and can capture the viewer's attention, conveying a message or story in a more effective way. High-quality images can be photographs, illustrations, or graphics, and they can be used in various contexts such as blogs, websites, social media posts, advertisements, and more.
They are essential in all forms of content, which is why it is important to improve image quality online or in other ways. Also, one of the best ways to do it is by AI upscaling.
AI Image Upscaler from VanceAI is an online image enlarger tool that uses AI and Machine Learning algorithms to enhance image pixels and quality of images. It can increase the size and improve the clarity of images without compromising their quality.
How Do High Quality Images Contribute in Engagement?
As mentioned above, high quality and interesting visuals are the bread and butter for most forms of content. When used with blogs, high quality images can increase engagement by making the content more visually appealing and interesting. They can also help break up long blocks of text and make the information easier to understand and remember. You can AI upscale image with VanceAI.com to convert small images, such as infographics, to large resolutions. Readers are more likely to spend time reading a blog post that has engaging images, leading to a lower bounce rate and higher user engagement.
High quality images can help create a positive first impression for visitors on your website. They can communicate the brand's personality, evoke emotions, and help visitors better understand the content. High-quality images can also increase the time visitors spend on a website, as well as encourage them to explore more pages.
When used in social media posts, high-quality images can increase engagement by standing out from the crowded social media feed. They can also communicate the message more effectively, leading to higher likes, comments, and shares.
Images of high quality can improve the ranking of a webpage by enabling search engines to understand the content better. Furthermore, the use of unique and relevant images that are visually appealing can make visitors spend more time on the webpage, thereby decreasing the bounce rates.
How VanceAI Image Upscaler Makes it Easy to Upscale Image
VanceAI Image Upscaler offers several benefits when it comes to upscaling images. Firstly, the tool uses advanced AI-based upscaling technology to enhance the resolution and quality of images. This means that users can upscale their images without losing the quality or details of the original image, making it suitable for a range of applications such as digital marketing, printing, and more.
Recently, the AI image enlarger tool has added a new feature that allows users to customize the upscaling process even further. The customization options include Standard, Anime, Art, and Text, and the AI upscale image tool processes the image according to the selected option. This means that users can choose the option that best suits their image type and enhance it in a way that aligns with their desired outcome.
The image enlarger tool is clearly capable of improving the details of an image while also upscaling it. As we can see from the above image, there aren't only improvements in the clarity of the image but also in its contrast and textures. When it comes to clarity, the AI upscale tool removes some level of blur from the previous image. In addition to that, it uses its AI algorithms to properly replicate the pixels of the image to make it twice as bigger and retain the details anyway.
How to Make Photos HD with VanceAI Tools?
The following guide will show you how to upscale image online with AI Image Upscaler and enhance photo details with AI Image Enhancer.
Enlarge Image Online with VanceAI Image Upscaler
Step 1: To access the tool webpage, simply click on the link provided above. Once you reach the webpage, you can access the Workspace by clicking on the Upload Image option.
Step 2: Within VanceAI Enhancer Workspace, you have the ability to upload images, select preferences, and perform other functions.Once you have uploaded the image, click on the Start to Process button to initiate the process of enlarging the image online.
Step 3: After the enlarged image is displayed on the screen, you can download it onto your device by using the Download Image button.
Enhance Image Details with VanceAI Image Enhancer
Step 1: Click on the link provided above to access the homepage of VanceAI Image Enhancer tool. Once on the homepage, select the Upload Image option to proceed to the next step.
Step 2: You will be directed to VanceAI Enhancer Workspace where you can upload your desired image.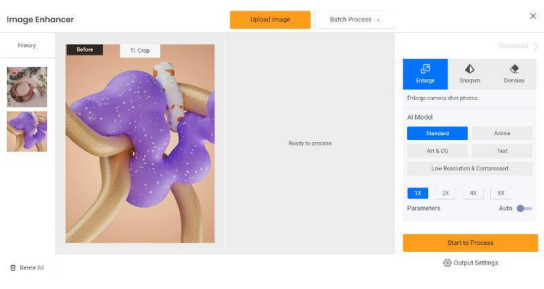 Step 3: Once the enhanced image is displayed on the Workspace, you can click on the Download Image button to save the image onto your device.
Final Verdict
The use of AI-powered applications and tools that can upscale images can be incredibly valuable for individuals and businesses looking to improve their photo quality. For many businesses, high-quality photos are essential, making an AI image enlarger tool an essential asset. VanceAI Image Upscaler and similar tools from VanceAI have been proven to be excellent applications, providing fast processing, high performance, and advanced features for enhancing images.
In addition to Image Upscaler and Image Enhancer, VanceAI offers many other image editing tools that can be incredibly useful for individuals or businesses looking to improve their images. Additionally, VanceAI provides free image credits, which allows users to start using the application without having to worry much about budgets.
Additional Choices from VanceAI
VanceAI provides a variety of photo editing and enhancement tools that can be accessed both online and offline. The offline version is called VanceAI PC, and users can visit the download page of the software using the link provided. VanceAI is an excellent platform to get started with because the tools can also be used in combination for a more comprehensive processing of an image. For instance, by using BGremover and VanceAI Image Upscaler together, users can remove the background of an image and upscale it simultaneously.
Additionally, VanceAI offers alternative tools for users who may prefer them. For example, photoenhancer.ai is an alternative to VanceAI Image Enhancer. However, these alternatives are free and may not offer the same advanced features and user interface as the original tools. For VanceAI Image Upscaler, users can access the alternative tool image-upscaler.com.