Introduction
The Future of Mobile Apps is incredibly exciting. With the advancements in technology, developers are finding new and innovative ways to create more engaging and user-friendly experiences for users. We've already seen this with apps that use machine learning and artificial intelligence, as well as augmented reality (AR) and virtual reality (VR) technologies to create immersive experiences.
But that's just the beginning. In the future, we expect to see more sophisticated apps that can understand our needs and behaviors in order to provide us with personalized experiences. We'll also likely see mobile app development services using hardware such as wearables, sensors, and beacons to connect mobile apps with physical devices. Additionally, cloud-based infrastructure will be increasingly important for app developers who need to quickly and securely store large amounts of data.
It's going to be even more exciting than what we've already seen. With the right combination of technology and creative thinking, developers will continue to push the boundaries of what's possible on mobile devices.
AI and ML in Mobile apps
In recent years, Artificial Intelligence (AI) and Machine Learning (ML) have revolutionized the mobile app industry by providing users with personalized experiences and improved efficiency. AI-enabled apps can collect data from users, interpret it, and use it to provide more accurate and tailored information. On the other hand, ML algorithms can be used to automate mundane tasks such as predicting user behavior or optimizing the user interface.
Looking ahead, AI and ML will continue to play a major role in the mobile app industry. Already, we're seeing developers using these technologies to create more intuitive user interfaces and experiences, as well as apps that can anticipate user needs and provide personalized recommendations. Furthermore, voice-driven interactions such as Alexa and Google Assistant are becoming increasingly popular among users, which means that developers will need to incorporate these technologies into their apps in order to keep up with the competition.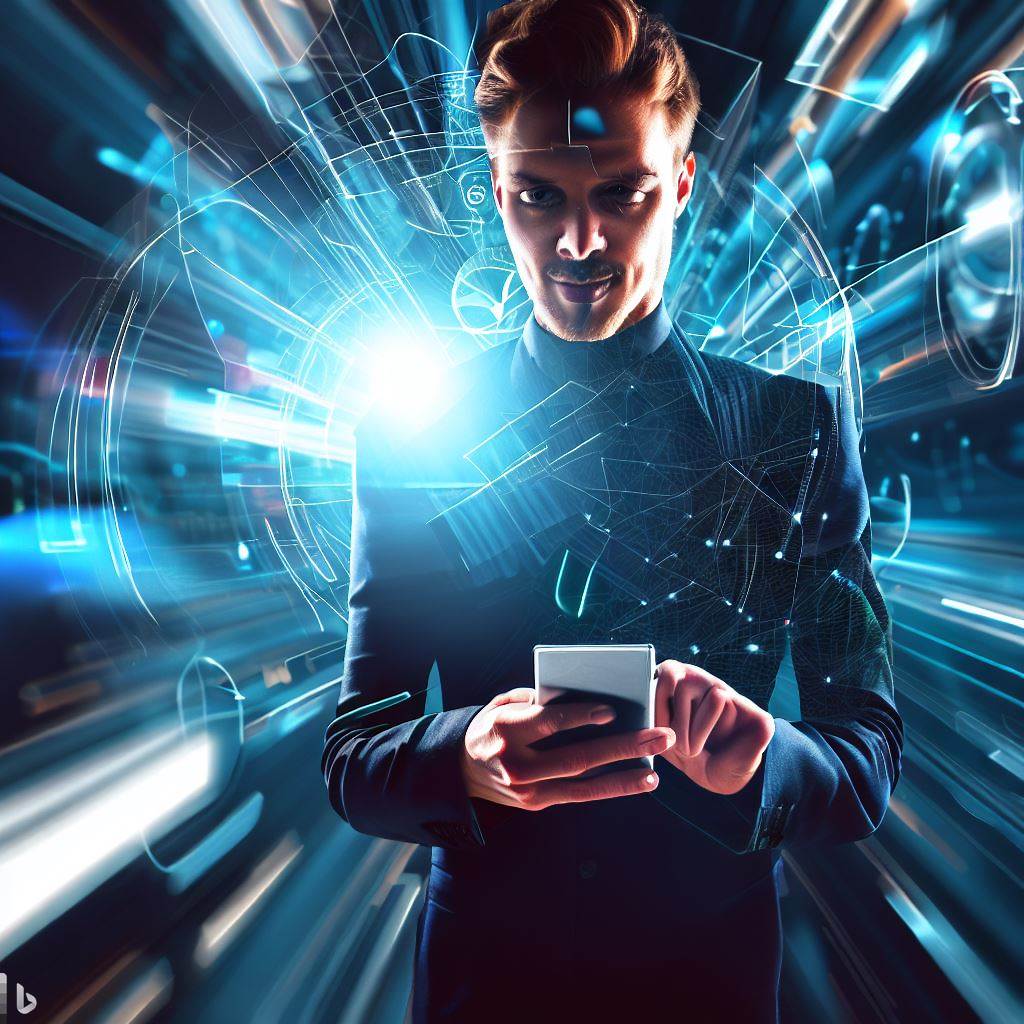 Blockchain and  Mobile Apps
The future of mobile apps is set to be heavily influenced by blockchain technology, the decentralized system that powers digital currencies such as Bitcoin. Blockchain's potential to revolutionize data storage and communication makes it an ideal choice for the development of mobile applications.
First, blockchain technology offers unparalleled levels of security and privacy for mobile app users. By utilizing a distributed ledger system, all user data is encrypted and stored off-site. This ensures that user data is secure from potential hacks or breaches, giving users the peace of mind that their data is safe.
Second, blockchain technology can enable more efficient interactions between mobile app users and developers. By creating a decentralized network for peer-to-peer communication, developers can create apps that are faster, cheaper, and more reliable than existing mobile apps.
Finally, blockchain technology also has the potential to revolutionize the way people monetize and purchase mobile apps. Currently, app purchases are made through third-party stores such as Apple's App Store or Google Play. By utilizing blockchain-based smart contracts, developers could enable users to directly purchase and use their app without having to go through an intermediary store. This would allow developers to keep more of their profits and provide users with easier access to apps.
AR and VR in mobile app
As technology advances, mobile applications are becoming increasingly popular and useful. AR (Augmented Reality) and VR (Virtual Reality) are two innovative technologies that have the potential to revolutionize the way we interact with our devices.
AR is an interactive experience in which virtual objects are superimposed over a user's view of the physical world. For example, AR can be used to add digital objects to a physical environment, or overlay information such as directions onto a user's view of the world.
VR, on the other hand, creates an entirely virtual environment in which users can interact with digital objects. By utilizing VR technology, developers can create immersive experiences that are almost indistinguishable from reality.
Looking ahead, AR and VR will continue to play an increasingly important role in mobile applications. Through advanced AR and VR experiences, developers will be able to create more engaging and interactive apps that offer users an unprecedented level of immersion. Additionally, both technologies will also make it easier for developers to create complex, three-dimensional user interfaces that are easier to interact with than traditional mobile apps.

IoT and mobile app
The Internet of Things (IoT) is a rapidly growing technology that enables physical objects to be connected to the internet and interact with each other. It has the potential to revolutionize the way we live, work, and play. It also has a major impact on mobile app development.
Mobile apps are becoming increasingly sophisticated, with more capabilities than ever before. As IoT continues to expand , more devices will be connected to the internet and developers will need to accommodate these new data streams. By leveraging IoT technology, developers can create apps that are able to interact with connected devices and take advantage of real-time data.
In addition, IoT can also provide mobile app users with a more personalized experience. By utilizing data from connected devices, apps can customize content for individual users based on their behaviors and preferences. This enables developers to create highly targeted apps that offer a more tailored experience for each user.
Voice-Activated Apps
Voice activated apps are becoming increasingly popular and are transforming the way users interact with their mobile devices. Voice activated apps allow users to give voice commands to their device, which it then interprets and acts upon. This can be incredibly useful for doing tasks quickly, without having to navigate through menus or type out commands.
With advancements in artificial intelligence (AI), voice activated apps are becoming even more powerful. AI-powered voice activated apps can understand complex commands and can even use natural language processing (NLP) to interpret user intent. This enables developers to create more sophisticated and useful apps that are able to understand a wide range of commands.
Wearable Apps
Wearable Apps are apps that are specifically designed for wearable devices such as smartwatches and fitness trackers. These apps provide users with the ability to access information, perform tasks, and interact with their device without having to take out their phone. With the rise in popularity of wearable technology, developers are increasingly creating new and innovative ways to make use of this technology, allowing users to stay connected even when their phone is not nearby.
Looking ahead, wearable apps will become even more useful as developers explore new ways to make use of this technology. For example, by utilizing sensors on the device, developers will be able to create more immersive and interactive experiences that can be used in a variety of applications. Additionally, advancements in AI and machine learning will enable wearable apps to provide users with tailored content and recommendations based on their data.
Beacon Technology
Beacon technology has the potential to revolutionize the way people interact with mobile apps. Beacon technology is a form of wireless communication that uses Bluetooth Low Energy (BLE) signals to detect nearby devices and provide location-specific information. This technology is already being utilized by retailers, restaurants, and other businesses to send notifications and discounts directly to customers' phones based on their proximity.
Beacon technology has the potential to be used in a variety of applications. For example, it could be used for navigation, providing users with turn-by-turn directions as they move around an area. It could also be used for gaming, allowing players to interact with their environment in a unique way. Finally, beacon technology could also be used for security purposes, such as authenticating users as they enter a building or area.
Conclusion 
The future of mobile apps looks incredibly bright. As technology advances, so too do the capabilities of mobile apps. We are already seeing some incredible advancements in mobile app development, from virtual reality (VR) and augmented reality (AR) to artificial intelligence (AI).
In the near future, we can expect to see an even greater integration of technology into our lives. Mobile apps will be able to provide us with even more useful features and capabilities, allowing us to do things faster, easier, and more conveniently than ever before.
The use of mobile apps is only going to continue to grow in the future. With the introduction of 5G networks and advancements in cloud computing, mobile apps will be able to handle more complex tasks with ease. Additionally, many Mobile app development companies in USA, UK, India are continuing to explore new ways to make use of device sensors in order to create more immersive experiences for users. In addition, with the increasing availability of data, predictive analytics will be used to provide users with more personalized experiences.
Ultimately, the future of mobile apps looks extremely promising. With so much potential for development and innovation, it is clear that mobile apps are here to stay and will continue to grow in popularity as time goes on.