The tranquility of the frozen air enhances our senses, landscapes sparkle and shine bright, and there's no shortage of food and drink to go around. Winter is a beautiful time to get cozy, snuggle up, and stay warm. On top of this, it should be your priority to stay fit and healthy during this spectacular period.
As a calisthenics coach, I've seen a good deal of bad fitness habits closely. Unfortunately, many of them rear their head during the winter season. Not only are they foible, but they can be detrimental to your future gains and long-term health.
Practicing good fitness habits may very well be the key to keeping your chin up and stoking the flame of motivation during the cold and dark of winter. If you are guilty of any of these bad habits I've listed below, now is the best opportunity to bring about a change.
Fitness
The word "fitness" is a general term that has a different meaning to every person. Research specifies that fitness is any bodily movement produced by skeletal muscles that result in an expenditure of energy.
More than that, fitness is a mechanism for improving our health. Not only physical but also emotional, mental, and spiritual well-being. In the short term, it can enhance your mood, and improve your sleep. In the long term, it reduces the risk of cardiovascular disease, cancers, diabetes, depression, and much more.
Bad Fitness Habits
Not Sleeping Enough
Sleep deprivation can have a negative impact on exercise performance, whether this is in the gym or outdoors. Sleep is vital as it helps your body to recover after exercising as it allows your heart to unwind and cells and tissues to repair. Without it, you would feel sorer than you would with a full 8 hours of sleep in the next couple of days.
Sleep can increase the level of the cognitive procession. Thus, with adequate sleep, your cognitive function can improve. You will be in a better mood, feel more energetic and be able to lift heavier or complete that extra rep!
Poor Diet
When it comes to bad habits in the fitness world, a poor diet may be the biggest culprit. Just like a car, your body will require good fuel in order to achieve optimal performance. If you give your body bad fuel, it will not work effectively and will eventually conk out. Proper nutrition is important if you want to stay energetic and fend off burnout.
It is highly recommended that you eat whole foods. That is, foods as close to their natural form as possible with minimal processing. This includes lean proteins, whole grains, beans and legumes, nuts and seeds (not salted), and fruit and vegetables. Also, drink plenty of water. I recommend at least liters a day, but try to drink even more than that if you're active.
Avoid processed foods such as sweets, sugary drinks, ready-to-head products, fried snacks, processed meats, or any chemical preservatives. You will have a great workout, and feel your best when you are properly fueled.
Not Warming Up Properly
Warming up properly before working out does not only prevent injury but also makes your workout more productive. This can be done via low-intensity activities such as jogging on the spot, jumping jacks, arm circles, followed by 3-4 dynamic stretches.
When you raise your body temperature, blood circulation, and muscle activation, your muscles will be primed for training whilst expanding your range of motion. Your warm-up routine should take at least 6 minutes and can last longer if needed.
Bad Form
You're probably aware of how important proper form is. It's a straightforward concept, however, many fitness enthusiasts – even experienced ones – end up taking shortcuts.
Bad form can injure you, severely, causing strains in the spine area and increasing vulnerability in your body. Moreover, it can target work on the wrong muscle, reducing tension on the muscle that you were originally targeting. Lastly, it can create a sense of false progress through cheated lifts or reps.
Here are some key fundamentals for achieving good form when working out:
Engage your core and keep your back straight during each rep or lift. This will support the spine and prevent injuries.
Execute each rep in a slow and controlled manner, both during the concentric and eccentric phases of rep or lift. This will reduce the overreliance on using momentum and losing control.
Perform each rep with a full range of motion. This will increase time under tension on your muscles and increase the general effectiveness of an exercise. For example: pull up until your chin is above the bar and lock your arms out fully before doing the next rep. This also applies to bicep curls, etc.
Always have a beginner's mindset, and don't be afraid to ask for "form checks" from gym instructors or any fitness professionals.
Doing The Same Workout
Over time, doing the same workout may become repetitive and it can be challenging to keep the momentum going. Your body is a maestro of adaptation; whatever is repeated, it will come to be very efficient at it, which could lead to a plateau and you will see no progress.
The answer to this is to change things up by performing different exercise variations, time execution (perform each rep at a faster or slower pace), including isometric holds in each rep. This will spice things up and provide your muscles with new stimuli, which will result in more gains!
Exercise Routine
People often believe that you have to lift weights in order to get fit and strong. But this isn't necessary. At-home bodyweight training (also known as "calisthenics") is enough to build muscle, lose fat and support you in achieving your fitness goals. Below are three exercises that you can implement into your training routine today.
Push-Ups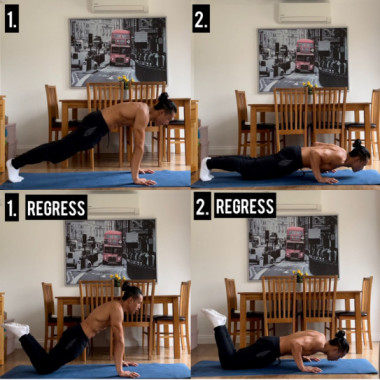 Source: Gymless
The push-up is a chest and triceps burner. This exercise will help develop upper body pushing strength and hypertrophy.
Start in a high plank position with your hands beneath your shoulders at shoulder-width apart. Your feet are together and legs extended. Keep your core and glutes tight so that the body is in a straight line.
Inhale as you lower your body until your elbows are approximately at 90 degrees angle. Keep your core tight.
Exhale as you drive back up by pushing through your palms. Lock your arms out before doing the next rep.
Repeat this movement between 8-12 reps for 4 sets. If this variation is difficult, you can regress to doing knee push-ups by simply placing your knees on the floor.
For a more in-depth guide to mastering the push-up, or to learn more challenging versions of the push-up that I do in my regular training, check out my video tutorial for push-up training.
Squats

The squat is a compound strength exercise that targets the lower body, primarily, the glutes, quadriceps, hamstrings, along with the abdominals.
Begin by standing tall with your feet being hip-width apart, with your toes slightly pointing outwards. Keep a neutral spine, shoulders rolled back, chest open, and arms by your sides.
Inhale as you send your hips back as if you are sitting on a chair. Bend the knees and lower them until your thighs are parallel to the ground. Clasp your hands together as you do this. Keep your core tight and spine neutral.
Exhale as you press through the heels to return to the starting position.
Repeat this movement between 8-20 reps for 4 sets.
Reverse Crunches
Reverse crunches help you develop strength and definition in the abdominals. A strong core will improve your balance, stability, as well as give you a toned mid-section.
Lie on your back with your arms by your sides and palms pressed into the ground. Bend your knees at approximately around 90 degrees with your feet flat on the ground.
Exhale and engage your core as you lift your feet, drawing your knees in towards your chest until your butt lifts off the ground. Keep your knees at 90 degrees throughout this movement.
Inhale as you return to the starting position.
Repeat this movement between 10-20 reps for 4 sets.
Australian Pull-Ups
The Australian pull-up is a great upper body exercise that can help to build an impressive upper back, biceps, and core strength. You can use a low dip bar or put a barbell across two stable platforms such as two chairs.
Position yourself under a low bar using a pronated grip with your arms fully extended at shoulder-width apart. Your legs are extended, feet are together with your heels into the ground. Engage your glutes and core to maintain a straight line.
Inhale followed by an exhale as you pull the bar to your chest by bending the elbows, with your shoulder blades pulled back as if you are crushing an apple in between the shoulder blades. Pull as high as you can whilst keeping the body straight.
Exhale as you return to the starting position by extending both arms. Ensure both arms are fully extended before repeating the next rep.
Repeat this movement between 5-20 reps, for 4 sets.
There you have it! If you can correct these common wintertime workout mistakes, and implement these calisthenics fitness movements into your training, then you will be well on your way to crafting a brand new, fitter body and mind this winter.
Author Bio:
Pat Chadwick is a calisthenics coach with over 4 years of experience in helping people from all over the world get fit and strong using bodyweight exercises. The longtime athlete is an instructor at Gymless Fitness. He helps people break through their fitness barriers with specialized coaching tips and techniques.