The procedure for determining whether an email address is valid is known as email verification. It is a necessary step in the email marketing process and is also known as email list cleaning and validation. Anyone can make a mistake when writing an email address, which renders the email address invalid. These incorrect email addresses cause emails to bounce, lowering email marketing campaigns' deliverability score. The email bounce rate needs to be lower for marketing efforts to have a profitable return on investment. A bulk email verifier should be used to reduce the email bounce rate.
Top 11 Email Validation and Verification Services
One of the most reliable email verification services, Reoon Email Verifier, offers mass email validation features at a reasonable price with 99% accuracy. Reoon Technology is a business that 5000+ organizations trust because it upholds quality. One of the best features of this email verification service is that it can accurately and smoothly verify emails from corporate domains like Gmail, Yahoo, Outlook, AOL, and others that are difficult to verify. It can also provide information on individual inboxes.
Comparatively to any other organization, temporary email identification performs exceptionally well and can identify dynamically changing temporary addresses. There are numerous details in the exported results. The user may quickly validate a customer list without worrying about data loss because they maintain the order of the uploaded excel file and add more columns at the end.
Features:
Single Email Validation: You can rapidly validate an email address by entering it from the dashboard. Email lists with thousands of rows can be uploaded at once and verified rapidly using bulk email validation.
Dynamic Temporary Mail Detection: Reoon has a high degree of accuracy in identifying dynamically changing temporary email addresses.
High Accuracy Validation: With 99% accuracy, they offer one of the best email validation services. Verify emails from Gmail, Yahoo, Microsoft, and other corporate domains. Validate emails that are challenging to verify. The Yahoo addresses that most other businesses claim are catch-alls can be effectively verified by Reoon.
Real-Time API Validation: Any email address can be validated in 0.5 seconds using the QUICK mode of the API, which can be utilized for website form submissions or client registration.
The download of Categorized Results: Users can download all or just the results that interest them.
Even though they can check almost all domains, there may still be some results that still need to be discovered—unknown Results Automatically Refunds.As soon as a work is finished, Reoon restores credits for surprising results.
Simple & Attractive User Interface: Everyone can utilize a friendly, straightforward, and intuitive user interface.
Customer service is generally prompt and of good quality. Response times range from a few hours to a day.
Price:
The free account offers 100 immediate credits in addition to 20 credits every day as a sign-up bonus. The price for 10,000 email validations under the never-expiring instant/lifetime credits plan is $12, while the price for 500 credits per day under the subscription plan is $9 per month. The following are the instant/lifetime credit plans.
DeBounce is a well-known, quick, and reliable email validation tool that assists you with bulk or API-based email validation. More than 1000 customers have given DeBounce favorable recommendations on several review sites like TrustPilot and Capterra.
You can integrate the validation engines with your CRM, ESP, or WebForms using DeBounce's 30 direct integrations with various ESPs and more than 100 total integrations. DeBounce also provides a potent data enrichment engine that lets you discover the real name and the avatar hidden behind any email address.
Features:
Greylisting prevention technology
Unidentified revalidation
Validation of challenging-to-validate domains like Mail.ru and T-Online
Pre-Start List Analysis for Free
Duplicate emails are automatically deleted.
Price:
One hundred free verifications are available. There are only a few cost options described here. There are a lot of possibilities depending on the number of verifications. Depending on the number of verifications, plans start as low as $0.0009 per verification.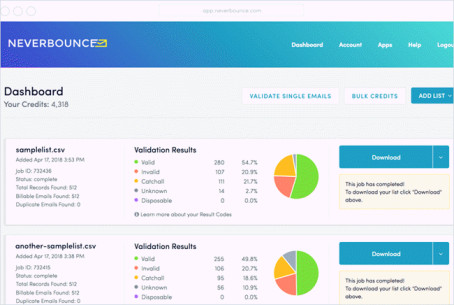 NeverBounce offers real-time email verification and email cleaning services. Both single email verification and bulk email verification can be implemented with it. For emails from small businesses, significant businesses, or from all well-known suppliers from everywhere in the world, NeverBounce does validation.
Features:
Any platform can be linked for real-time email verification.
It offers an API, JavaScript Widget, Webhook, and Dashboard to authenticate a single email.
An immediate bounce analysis will be given.
Duplicate emails are automatically deleted.
It carries out high-risk identification and gets rid of emails that could be hazardous.
Without delivering the message, BriteVerify performs email verification in real time. The Email Verification API is possible on landing sites, POS systems, mobile devices, and web forms. It is capable of real-time email list verification.
Features:
It can verify emails in real-time.
Bulk email verification is available.
Validation of domains is possible.
The email list can be imported straight from the marketing platform or added directly by drag-and-drop.
Web application Bulk Email Checker is used. It is an email checker that uses SMTP. It can verify emails in real-time. Google Sheets and Bulk Email Checker connect smoothly. A WordPress plugin is available.
Features:
Duplicates are filtered.
It does an SMTP test after deep cleaning.
It filters out addresses on your blocklist and throwaway providers.
Through the use of two-way encryption techniques, it offers data security.
By connecting with your current systems, like MailChimp, Mailgun, Mandrill, Mailjet, SendGrid, and Postmark, it can carry out blocklist tracking.
Price:
Ten email addresses are accessible each day. Depending on the number of email validations, there are numerous programs available. Here, a select handful is mentioned.
This online email tester offers an API for incoming email address validation. Real-time validation will take place. Additionally, it is capable of verifying email lists. Without transmitting the message, it validates the email.
Features:
It has the ability to verify emails in real time.
It cleans up email lists.
It checks the domain, DNS, mail exchanger, and syntax.
Additionally, a mailbox's existence is verified.
Duplicate email addresses are eliminated.
Digital marketers can use Bounceless.io to improve their email campaigns. It can help improve email deliverability by cleaning and verifying email lists. It assists businesses in obtaining exceptional ROI by removing hard bounces. Both single emails and bulk emails can be verified.
Features:
It is compatible with Mailer light, SendGrid, and MailChimp.
It has the ability to verify emails in real time.
It's simple to browse, search, and filter the email list.
You will receive comprehensive information on email list deliverability from it.
You can use integrations to import the list from any location.
Email Marker offers email cleaning and verification services. Increasing ROI aids in email campaign success. It offers real-time API for real-time email verification, which may be linked to your program or website.
Features:
Grammar check
Merges duplicate records after identifying them.
It controls the spam trap.
It can perform domain validation for dormant, invalid, and parked domains.
There is a running mail check.
It recognizes the risky account right away.
9. MyEmailVerifier
MyEmailVerifier is a bulk email verification tool that enables you to purge your email list of all invalid, spam trap, and unwanted email addresses. Our email verification service gives you an updated, clean email list and assists you in eliminating spam traps, abusive or fraudulent emails, and disposable emails from your list.
With the help of our email validator service, you may purge your email database, increase email deliverability, and connect with more genuine recipients. MyEmailVerifier offers cost-effective email list cleaning with a 98% accuracy rate.
Features:
Virus domain checker
Detection of spam traps
Syntax checker
Checker for domain/MX records
All-purpose email checker
Account role detection
Domain email checker for free
Upgraded Yahoo email verifying tool
Real-time, high-performance API
Comprehensive SMTP response
Identification of greylisted domains
Quickest turnaround
Data validation aids email marketing and increases return on investment. Companies, email service providers, and startups can all use our email tester. Both an email list and a single email address can be verified using it. Following email list cleaning, this service ensures 99% deliverability of emails.
Features:
API for an email verification for your website or app.
You can immediately import or upload an email list from your service provider.
For each email list you upload, it will offer you a quality assessment.
99% deliverability is ensured through email list cleaning.
You have the option to check the email list on an automatic basis every month, week, or biweekly.
Email service providers, startups, and Fortune 50 organizations can all use this email validator.
Features:
For mass email verification, you can upload an email list in text CSV files.
Using this feature, you can import a subscriber list from the email service provider.
It offers a REST API to incorporate into your program or website.
To verify emails in real-time, this API is available.
You will receive data on the verification process.
Conclusion
This concerns email validation and the best services for email validation and verification. Small firms should use NeverBounce, ZeroBounce, Xverify, and BriteVerify. The Email List Validation service is the most reasonable when we examine the costs of the top five providers for 10K validations.
Xverify is the finest option for affiliate management and can monitor IP blocklists. Bulk Email Checker does deep cleaning of the SMTP test. NeverBounce performs high-risk detection and immediate bounce analysis. Regarding listing upload formats, the Quick Email Verification service offers more excellent support than others.