Asian television shows, comics, and Japanese animation are streamed on Crunchyroll's website. Established in 2006, it has more than 120 million users in more than 200 nations, making it one of the most well-known anime streaming services.
Crunchyroll offers both a free and paid subscription, which gives viewers access to a more extensive selection of media, ad-free viewing, and the opportunity to watch simulcasts (new episodes airing ( Japan) inside just an hour of their first airtime on television.
Crunchyroll is more than simply a website where you can watch anime and other television programs; the business also produces original programming and offers a range of products.  Because of its connections with various important studios and distributors, it can provide its viewers with a vast choice of anime.
Details about Crunchyroll:
Anime Collection:  Numerous anime series, classic shows, and simulcasts of the most recent episodes from Japan are available on Crunchyroll. The library offers a wide variety of genres to accommodate all tastes.
Drama in Asia:  Crunchyroll offered a variety of Asian dramas in addition to anime, with a focus on dramas from Japan, South Korea, and other Asian nations.
Fast Releases and Simulcasts:  Simulcasts of anime series were made available by Crunchyroll shortly after they were shown in Japan, allowing subscribers to see the most recent episodes with English subtitles.
Premium and Ad-Supported Plans: In addition to premium subscription levels that allowed ad-free viewing, better video quality, and access to the whole collection, Crunchyroll also featured free ad-supported streaming with constrained content availability.
Support for Multiple Platforms:  On a variety of devices, including web browsers, smartphones (iOS and Android), game consoles (PlayStation, Xbox), and streaming devices (Roku, Apple TV, etc.), Crunchyroll was accessible.
Offline Watching: The option to download episodes for offline viewing was available to premium customers, enabling them to enjoy their preferred anime and dramas without an internet connection.
Manga Archive:  In addition to videos, Crunchyroll provided its subscribers with various manga books to read.
Social and communal characteristics:  An active community of anime fans connected on Crunchyroll through forums, comments, and social media sharing of their favorite series.
Personalized options and lines: To keep track of their favorite programs and quickly resume where they left off, subscribers could make queues and custom watchlists.
Accessibility Alternatives:  As a result of Crunchyroll's provision of subtitles in several languages, anime is now available to a larger global audience.
Gains from Crunchyroll:
A massive library of anime:  With its extensive and varied library of anime titles, Crunchyroll gave its users access to various popular and venerable series from various genres.
Fast Releases and Simulcasts:  The most recent anime episodes were available on Crunchyroll shortly after they were shown in Japan. Fans could keep up with the latest episodes of their favorite series because of this feature.
Asian Dramas of Interest:  Crunchyroll offered members a selection of Asian dramas in addition to anime, giving them access to a wide range of regionally specific entertainment.
Free from Ads:  When watching anime or Asian dramas, premium customers can watch without interruptions, thanks to ad-free viewing.
Several Platforms:  With Crunchyroll, subscribers could easily access the material whenever and wherever they wanted on various devices and platforms, including web browsers, mobile devices, game consoles, and streaming devices.
Offline Watching:  The option to download episodes for offline viewing was available to premium subscribers. Thanks to this function, users could watch their preferred programs without an internet connection.
Social and Community Interaction:  Through forums, comments, and social media, subscribers to Crunchyroll could engage with a vibrant community of anime lovers. Thanks to this feature, fans could talk about their favorite shows and learn about new ones, which promoted a feeling of community.
Obtaining Exclusive Content:  On occasion, Crunchyroll made exclusive content available only to its customers, enhancing the value of the service.
Subtitles and localization:  As a result of Crunchyroll's provision of subtitles in several languages, anime is now available to a larger global audience. For viewers who preferred to watch anime in their native tongue, this was highly advantageous.
Legal and helpful:  Crunchyroll offers an authorized and lawful venue for watching anime and Asian entertainment. Users who subscribed to Crunchyroll helped the anime community and its creators.
Best Crunchyroll Alternatives To Watch Free Anime:
Another well-liked website for streaming anime is Funimation. Funimation is currently owned by Sony, which has collaborated with Hulu to expand its streaming options, despite having previously worked with Crunchyroll.  Funimation's cheapest premium plan allows for two concurrent streams, whereas Crunchyroll's free option only allows for one.It is less expensive than the cheapest plan from Crunchyroll.  Additionally, it is cheaper on Funimation than Crunchyroll to sign up for offline viewing (and up to 5 simultaneous streams).  Of course, as prices are subject to change, visit the Funimation pricing page for the most recent details.
It is a website that provides a variety of cartoon and anime series for free; its cartoon series are updated and organized for users regularly.  Most animation enthusiasts may come across it. Top alternatives to Crunchyroll are listed below. After that, you may sign up for KissCartoon and be among the first to know when a brand-new cartoon or anime series is available. After clicking the video, additional advertisements will appear in the top and bottom bars. KissCartoon is very popular, with over 15 million monthly visitors, most from the United States and the United Kingdom.
If you can't decide between Crunchyroll and Funimation, VRV, which is exclusively available in the United States, is a beautiful Crunchyroll option.This is because it transmits programming from numerous channels, including both Funimation and Crunchyroll. VRV includes content from various media libraries, like Rooster Teeth and Mondo Media, Crunchyroll, and Funimation.
If you want more than Crunchyroll has to offer and are prepared to spend a little bit more each month to get it, VRV is a terrific choice. Crunchyroll is more affordable, but VRV contains all of Crunchyroll's content in addition to a tonne more.  The website's functionality, including features like searching for anime with filters, could be better than Crunchyroll's. Additionally, it is only accessible in the United States, making it a poor substitute for Crunchyroll for those who reside elsewhere.
If you're seeking for a comprehensive list of Chinese anime streaming sites, Animefrenzy should always be at the top of your list. In addition, it offers a substantial collection of animated features produced in the United States. Additionally, it contains a switch that will be useful for highlighting some of the haphazard suggestions that may apply to you in the future.
Compared to Crunchyroll, HIDIVE's subscription prices are more reasonable, and the service's free trial period is longer.  After 30 days of free use, HIDIVE Premium costs only $4.99 monthly for ad-free access to exclusive content and dubs (see the leading website for the most recent price list).  Simulcasts, programs, films, and dubbed content are available on HIDIVE. Sentai Filmworks also supports it, making some of their movies available for streaming on HIDIVE.
Remember that even though HIDIVE is only half as expensive as VRV, a VRV membership will also provide access to HIDIVE material. Therefore, you will receive more content if you are prepared to pay twice as much.  But you can only do that if you reside in the United States. If you don't, HIDIVE is your sole choice instead of VRV.
It is one of the top websites for anime fans; it frequently employs subbed anime. AnimePahe's main page features only the most recent anime releases and lacks distracting adverts. In terms of design and user-friendliness, this site holds its own against other free anime streaming providers. You are presented with an image and the anime title; selecting it initiates playback.
The player is also great because of the game's intuitive user interface. The United States, India, the Philippines, and Malaysia account for 2.5 million of AnimePahe's monthly visitors. The distinction is that English-language anime is all that Indians can view.
With anime available within an hour after they are broadcast in Japan, AnimeLab is a fantastic free alternative to Crunchyroll for streaming anime. It is an entirely legal website as well.  AnimeLab is only accessible in Australia and New Zealand, though. Therefore, if you live in one of those countries, AnimeLab can be a suitable alternative to Crunchyroll.
The free AnimeLab edition does have certain limitations, though. The free tier only includes subtitling, not dubbing. Additionally, advertisements are played as you watch, there is a little variety of shows, and simulcasts have a one-week delay. If you upgrade to the premium plan, you can download shows for offline watching, granting you unrestricted access to ad-free material without lag in simulcasts.
Chia anime is well-liked by fans who want access to a broader selection of films, videos, and programs that are entirely free. You will receive improved dubbing in addition to English subtitles. Therefore, adherents have shifted their language preference to English. Furthermore, people of all ages find this website to be great. You should be aware that it includes numerous advertisements. It could sometimes seem unpleasant to see so much advertising on your screen.
Although Hulu isn't a website that only streams anime and manga, it does feature a variety, and if you watch with advertisements, it only costs $5.99/month (see this page for the most recent pricing details).  The anime content is less diversified than other websites included in this list, so upgrading to an ad-free account would likely not be worthwhile.  Despite its US-only availability, it's a good option for anime fans looking to stock up on merchandise. Hulu could be a terrific Crunchyroll substitute if you already have a subscription.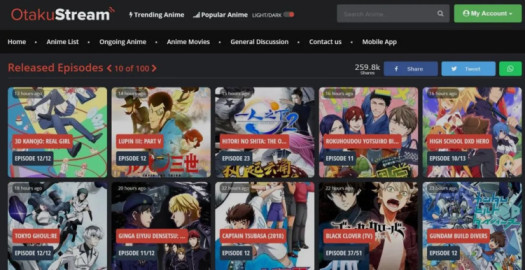 Otaakustream, is it legal? There is only one better alternative to Crunchyroll than Otakustream if you're looking for an actual replacement. Along with ensuring your increased safety, you can be sure it will always give you access to a broader selection of programs. If you follow this procedure, you can rest assured that your efforts won't be wasted. In addition, you should be informed that it has earned a solid SSL certification. It is also pleased to report comprehensive traffic statistics.
Retrocrush TV is a fantastic alternative to Crunchyroll if you're a fan of classic TV shows and films from the past. Retrocrush is the place to go if you're into ancient anime classics like 1998's Devil Lady.  It contains subtitled and dubbed films and television shows, and searching by genre makes finding the material you need simple.  The free content is excellent, but if you want ad-free access to endless retro anime entertainment, consider purchasing the premium plan, which costs just $4.99 per month or $49.99 per year.
You must check out the database of must-watch anime that Masterani has.The website has a dynamic design, and you may narrow your anime search by a variety of categories at any time. Continue down to easily access episodes of regularly airing anime series. Without a doubt, you can substitute this website for Crunchyroll.
Like Hulu, Netflix doesn't focus only on anime, and its anime library isn't extensive. On Netflix, you can still discover some fantastic anime material, though. If you already have a Netflix account and the anime you want is accessible there, you shouldn't discount Netflix as a Crunchyroll replacement. Some of the best old and new anime works may be found there. A selection of their anime is provided here. Since Netflix's prices change from nation to country, it's essential to check the Netflix pricing page for the most up-to-date information.
Are you looking for a reputable Crunchyroll substitute? Nothing will give you a greater sense of assurance than AnimeHeaven. Our website lets People watch some of the hottest and most recent Japanese films. As long as you rely on this website, you will also notice that it will be simpler to stream in excellent quality. You'll also notice that films frequently use "English" in their titles.
Not just video content but also anime content is widely published by Viz Media. Viz Media is a great place to find manga and anime. To see the most recent anime releases now streaming on Viz, visit the Watch section if you're searching for a Crunchyroll substitute and are interested in watching anime.
You may also look for a title or character using the search box at the top of the website. You can also download entire seasons or individual episodes.  If you like to read anime, you may find many volumes on adventure, mystery, romance, and other topics in the Read section.  Viz Media is a terrific resource for getting free anime to read or watch online. If you're looking for an alternative to Crunchyroll but want to watch anime while reading, this site may be perfect.
Do you need a top-notch streaming service with various anime shows? You could always count on Anime Karma to be your finest choice. The majority of its programming is HD resolution. Additionally, you will like the floor tiles' presentation of information relating to the current films. These tiles make it easy to classify options according to various criteria. You'll shortly learn, nevertheless, that you're primarily being utilized as a single server backlink.
Just like Hulu and Netflix, anime fans can find great content on YouTube.For instance, you may watch anime-related content on the YouTube feeds of both Crunchyroll and Funimation.  You can find anime content on many other channels, and if you search for your favorite shows on YouTube, you can even find some of the episodes there. As the screenshot shows, episodes with complete dubbing are available rather frequently.  Crunchyroll may not have all the amusing videos and anime stuff you want, but YouTube is free.
You may watch anime online at Anime-Planet, a terrific source for all anime-related stuff. On Anime-Planet, you may find recommendations and read reviews of various anime series.  The best part is that over 45,000 legal anime episodes are available to stream. It costs nothing to register, and once you do, you can browse through trending and popular anime content and keep track of how much you've seen and read.  For anime and manga enthusiasts, Anime-Planet is a fantastic website and an excellent Crunchyroll substitute.
It would be best if you thought of Kissanime as a trustworthy and superior Crunchyroll substitute website. There is a significant global fan base for it. Remember that it guarantees excellent HD quality and many videos and programs.
It becomes more accessible to fulfill your requests by doing this in the future. While at it, you may stream your web material for free in various resolutions, such as 240p, 1080p, and 720p. In this case, you might wonder if there are any Crunchyroll alternatives. There are, indeed. As you continue reading, you will undoubtedly find several excellent replacements to consider.
You can tell from the name alone that AnimeLand is the best place to look if you're looking to watch anime online. However, if you enjoy watching English-language animated films, there might be better choices than this website because it offers a wide selection of films you will surely adore.
Conclusion:
Dear readers, I've listed some of the top-rated and finest Crunchyroll substitutes above. Reading this list will increase your love for anime and inspire you to preserve its culture. Please share your thoughts in the section below.