You don't want to lose a crucial file and be unprepared for it. Instead, you should have dependable data recovery software on your computer, and this article is here to help you select the best option.
Why Data Recovery Services Are Necessary
Unless you regularly make backups of your data, sensitive information on these devices is not secure.
Any storage device's data is vulnerable to harm from human errors, mechanical component wear and tear, and other factors. It's unpleasant to be in a scenario where your personal or professional data is lost.
The process of retrieving inaccessible, missing, corrupted, or formatted data from various storage devices, including Hard Disk Drives (HDD), mobile phones, Solid State Drives (SDD), External Hard Drives, USB Drives, etc., is known as data recovery.
Data That Can Be Recovered
It's critical to realize that mistakenly deleted or formatted data is still on the hard drive. The only storage area designated to store new data is where the old data was stored. As a result, data recovery from such a storage device is conceivable. Stopping from utilizing the drive is crucial. It may also happen if the hard drive cannot be accessed, is not detectable, or has physical damage.
Hard drives must be handled by professionally trained experts in a contaminant-free environment with humidity, temperature, and temperature control, also referred to as a "Cleanroom," for optimal recovery. The recovery process is complex and requires specialist tools and knowledge for challenging tasks such as physical damage or undetectable hard drives.
Data That Can Not Be Recovered
Although some service providers may assert that a 100% recovery rate is feasible, you, as the consumer, must understand that even with the most cutting-edge technology and equipment, such results are not attainable. The same is true for instances where data recovery is impossible. For instance,
The data cannot be recovered if it is overwritten with new data.
A smartphone that has had a factory reset cannot retrieve its data.
It cannot be retrieved if the data has been physically scraped off the platter due to physical damage to the hard drive.
The data cannot be recovered if the HDD operating system, commonly referred to as firmware.
Best Data Recovery Software in 2023
With more than 25 years of expertise, CBL Data Recovery is a market leader in data recovery and customer support. They can recover valuable data from every form of storage device that has suffered damage from water, fire, mechanical failure, ransomware, common drive failures, and other events. A skilled group of trained engineers, a cutting-edge cleanroom that is Certified ISO Class 5, and exclusive tools are the keys to their success.
To meet various data loss demands, they provide three different service plans: Standard (1-2 days), Priority (ASAP), and Economy (5-7 days). Every day of the year, including nights, weekends, and holidays, Priority Service is accessible. Meets SOC II Type 2 requirements for recovery facility security.
Services:
Digital Forensics
Data Recovery
EDiscovery
SalvageData provides one of the most secure data recovery services for people and organizations across the US, with a success rate of 97% and more than 19 years of retrieving data. Our trained engineers and full-sized Cleanroom can promptly restore all data, whether deleted mistakenly, subjected to ransomware assaults, or even lost due to a calamity. Use the SalvageData Recovery App to keep track of each step of the recovery procedure, and contact our excellent customer care with any questions you may have.
Services:
Data Recovery
Digital Forensics
Ransomware Recovery
A sophisticated corporate solution, Stellar Data Recovery software includes features for email repair, email conversion, file repair, and data retrieval & erasure. It has in-lab services that can retrieve data under challenging situations, such as from a hard disc that has physically crashed, a RAID that has crashed due to file system corruption, damaged firmware, etc.
It can retrieve deleted files from action cameras, drones, and other recording devices, including images, videos, and audio recordings. It includes getting your info back from your iPad and iPhone.
Services:
Data Recovery
iPhone Recovery
Photo Recovery
Video Repair
With over 35 years of expertise, a 90% success rate, and over 569K recoveries under their belt, Ontrack is a pioneer in the data recovery industry. They offer Standard, Priority, and Emergency services with turnaround times of 7 days, three days, and 24 hours, respectively, and recover data from a wide range of electronic devices.
R-Studio is primarily designed for professionals that are already knowledgeable about data recovery. It supports all widely used file systems and partitioning models and can handle damaged or lost partitions. R-Studio allows users to launch numerous data recovery operations concurrently in separate tabs rather than walking them through the recovery procedure step by step.
The extensions, creation, modification, access times, and other factors of recovered files can all be sorted. To evaluate a file's integrity or carry out partial recovery, you can view files using the built-in hex editor or preview various supported file types.
Make sure you purchase the correct version of R-Studio when you purchase it. Only the FAT, exFAT, and Ext2/3/4 file systems are supported by R-$49.99 Studio's entry-level edition, which can recover data from them. You must buy the $79.99 version to recover data from NTFS, ReFS, HFS+, HFS, and UFS.
Data Rescue is a somewhat perplexing data recovery software program because its straightforward and uncomplicated user interface (the main screen has just three sizable buttons with vivid icons and thorough descriptions) leads one to believe that it is designed with the average home user in mind. Still, its high price and confusing pricing structure tell a completely different tale.
A single license costs $399.00 per year and can be operated by one user on an infinite number of systems.
Compared to what other data recovery software programs in competition charge for a lifetime license, that is more than twice as much.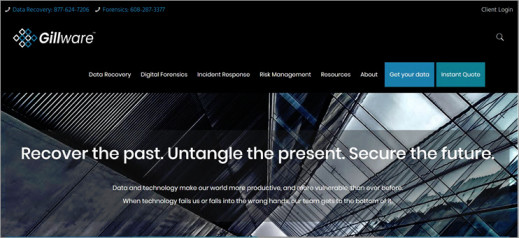 2003 saw the discovery of Gillware in Madison, WI. Gillware, a pioneer in cutting-edge data recovery methods, operates a 14,000-square-foot ISO-5 Class 100 recovery facility. Gillware's skilled data recovery experts can recover data from hard drives, RAIDS, USB flash drives, SD cards, and much more. Gillware meets SOC II Type 2 requirements for secure recovery facilities.
Services:
Cyber Risk Management
Data Recovery
Digital Forensics
Incident Response
Hard drives are well known to be made by Seagate. They provide In-lab recovery, Recovery Software, and Data Rescue programs. It can take anywhere from two days to three weeks to restore data.
The progress can be followed online. Although they are beneficial for private users, corporations must exercise caution.
Services:
Since 1991, Disk Doctors has offered recovery services. They provide quick turnaround times, free shipping across the country, and a "No Data, No Charge" policy. They can choose between Standard Service (5 business days), Expedite Service (5 business days), Emergency Service (24–48 hours), and Rush Service (10 business days).
Services:
DataTech Labs is a reputable data recovery firm with headquarters in Denver, Colorado. They offer accredited recovery service facilities all around the country. They are qualified to handle all makes and models of hard drives so they won't void your drive's warranty. They have an ISO 5 Class 100 Cleanroom-certified facility.
Services:
DiskGenius is a comprehensive partition management and data recovery program for business and personal users. You may use it to fix various annoying disc issues and test it without spending any money before purchasing one of the two paid editions.
The organization that created this data recovery software has been in company for a long time and has gained the confidence of millions of home users and numerous significant corporations. With support for over 1,000 file formats and all widely used file systems, including NTFS, FAT, HFS+, and APFS, Recoverit, the company's flagship data recovery solution, is a standout.
Solid Data Recovery
Professional-grade data recovery software for Mac and Windows, Stellar Data Recovery, can handle entirely failed and unbootable systems, which many lesser apps would deem unrecoverable.
With over 28 years of experience, DataMechanix, situated in Irvine, California, is a leader in the field. They can handle all media types, operating systems, and business storage systems and provide quick, courteous, and affordable recovery services.
Services:
Data Recovery
Training to U.S. Law Enforcement or Government personnel
Although SERT Data Recovery LLC is situated in Florida, it provides services across the US in all 50 states.
All SERT hard drive and Attack recovery services are carried out on-site in their Florida lab, which features a CLASS 100 ISO 5 clean workbench. SERT specializes in data recovery from NAND storage media found in Solid-State Drives and USB Flash drives.
Services:
Conclusion
Since every case of data loss is different, recovering data from a damaged, dropped, soiled, or inaccessible hard drive can be exceedingly challenging. However, a group of skilled recovery experts knows what they're doing. Maximum data recovery requires skilled professionals, a technologically advanced Cleanroom setting, and the appropriate equipment.
We advise DriveSavers for compassionate data and complicated recovery instances based on our research.
Despite being somewhat expensive, they are known for having a secure environment, a staff of certified engineers, and the necessary security certifications. They also have exceptional customer service. They have very positive consumer feedback.
According to our investigation, Secure Data Recovery maintains the highest Cleanroom standards.
Hard drive platters exposed are delicate, and even a tiny amount of contamination can cause additional platter surface damage. As a result, it is critical to maintain the Cleanroom's cleanliness.