Android launchers are apps that allow you to customize the look and feel of your Android phone's home screen, app drawer, and other aspects of the user interface. Launchers are essentially a replacement for the default home screen and app drawer that come pre-installed on your Android device.
Launchers can be downloaded and installed from the Google Play Store, and they come in a variety of styles and designs. They offer a range of customization options, including the ability to change the app icons, change the layout of the home screen, add widgets, and even change the animations and transitions between screens.
Some launchers also offer additional features such as gesture controls, theming options, and advanced settings for power users. Launchers can be a great way to personalize your Android device and make it more efficient and convenient to use. Here are some of the best Android launchers for 2023:
Top 12 best Android Launchers
We have compiled a list of the Top 12 best Android launchers. Let's have a look at the list given below.

Compared to other Android launcher apps, AIO Launcher does it differently. The typical home screen is replaced by a list of items that is jam-packed with information. It displayed information about your most recent SMS messages and missed calls, your media player, your system information (RAM, battery, storage, etc.), and even news, the price of Bitcoin, Twitter, and other things. The Play Store description contains the complete list, which is actually pretty long.

The Apex Launcher has been around for a very long time and has gone through various changes. The user interfaces in use right now are somewhat conventional. Home screens, an app drawer, and other standard features are provided. It does include a few things that some people may find helpful. Apex has an integrated app locker to prevent your children from accessing your more sensitive apps. Along with transition effects and other customizability possibilities, there are themes, gesture controls, support for icon packs, and more.

One of the few minimalist launchers on the list is Before Launcher. This one promises to cut down on phone use by as much as 40%. A notification filter is also available, which cuts notifications by around 80%. Other characteristics include a simple, clean user interface (UI) and the option to pin or conceal particular programs. It has fewer customization options than most minimalist launchers, but that is to be expected. However, icon packs are supported.

One of the more recent Android launchers on the list is called Hyperion Launcher. It fits in well between more robust launchers like Nova Launcher and Lawnchair 2's vanilla Android experience. There are several options to tweak the UI, which has a basic Android aesthetic. You receive features like accent theming, various icon changes, a font changer, a two-row dock, and more, in addition to the standard features like icon pack support.

The most well-known Android Launcher with iOS 16 design cues is Launcher iOS 16. It does the action you anticipate. Widgets, app groups, and other elements of your home screen appear as they typically would on iOS. Additionally, the Launcher supports a control center in the iOS style (available on Google Play) and an assistive touch feature in the iOS style (available on Google Play). It mostly functions as intended. However, users have occasionally reported minor issues. Overall, it functions fairly well; however, we do wish there was an add-free version.

For aficionados of minimalism, Lawnchair Launcher is a great Android launcher. It is an open-source project that closely resembles the appearance and functionality of the Pixel Launcher. Along with a few more, it has a lot of functionality that the Pixel Launcher lacks. Icon pack support, Google Now integration (with an optional and free plugin), adaptable icons, and several additional customization are among those capabilities. The original received a lot of praise for its stock-like appearance and customization options.

Previously, Lightning Launcher was a decent, simple Google Play launcher One of the most adaptable Android launchers ever created is this one. Nonetheless, it is quite light. You can modify almost everything on the home screen thanks to it. Even more, than one set of home screens can be used at different times. Its support for scripting is possibly its most distinctive feature. JavaScript may be used to program Lightning to perform a variety of tasks.

There has been a Microsoft Launcher for a while. Earlier, it was called Arrow Launcher. Midway in 2017, Microsoft rebranded the app. The program has direct connectivity with Microsoft PCs as well as integration with a number of Microsoft services, including their calendar, email, and to-do list app. Additionally, it provides gesture controls and customization options. After the rebrand, this one went back into beta. So, there are probably some bugs present right now. It's something different, though, and is particularly helpful for Windows PC users who seek better integration.

The newest launcher app on the list, Niagara Launcher, is our selection. It's somewhat of a gem in the rough. It has a very simple user interface with a clean appearance, great ergonomics, and a sleek appearance. The app also makes an effort to reduce the need for the notification shade by incorporating music controls and message notifications. Along with the fundamentals like support for icon packs, there are a few light-theming choices available. The stable version, which was released in February 2021, had a tonne of bugs fixed and a few small design tweaks made.

Nova Launcher is the best that can be found. It is still one of the greatest Android launcher apps available, in addition to being still relevant. It provides a long number of customization options, including support for gestures, the ability to change the app's appearance and feel, support for icon packs, support for themes, and a whole lot more.

One of the most recent Android launcher apps on this list is Olauncher. It features a simple user interface, fewer customization than typical, and distraction-free use. The software purposely leaves out essential graphical elements like icons in an effort to simplify the user experience. Although you can change the background and make a few tweaks, that is essentially the plan. It doesn't get in the way once you install and utilize it.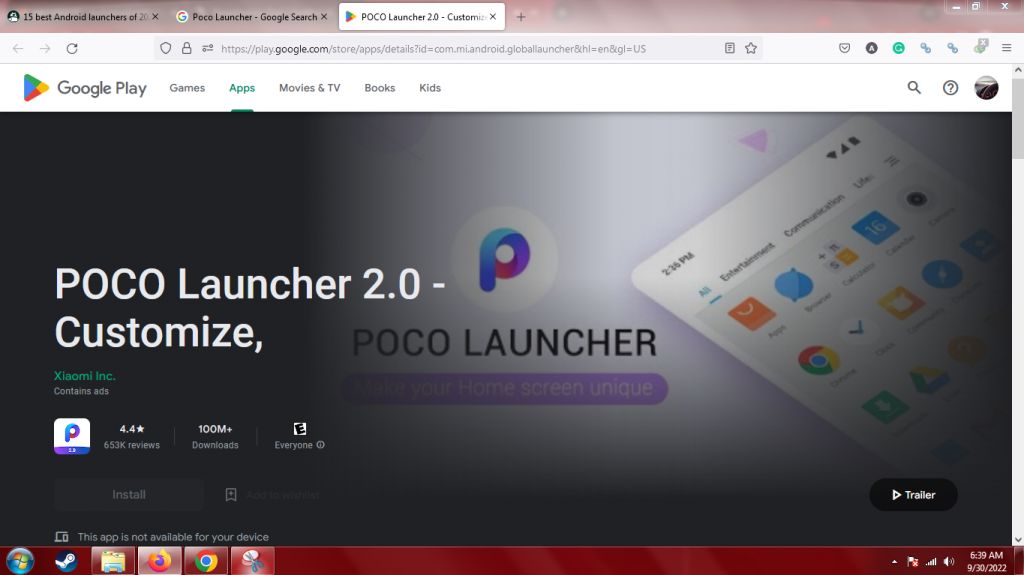 The popular (and inexpensive) Pocophone comes with Poco Launcher as its default launcher. It's actually accessible for the majority of Android devices, which is somewhat unexpected given that Google won't even provide its own. This Launcher is really simple. It features a home screen with icons and a swipe-to-access app drawer, similar to the vanilla Android interface. You may change things like the home screen grid and the wallpaper of the app drawer. It also features a privacy setting that, if selected, hides app drawer icons. Besides that, it moves easily and smoothly.