Many of us wished we had a library when we were kids. Isn't that so? But would that have been possible in the first place? Perhaps, perhaps not! A library would require a large number of books, and a large number of books would necessitate a large sum of money. Today we will talk about the best sites to download free Ebooks.
I do, however, have some excellent news for you! Now you can have your very own library! Yes! And it's all for free! Thousands of free e-books are available on a variety of websites, which you can download and read in your spare time.
Not only that but there's more! You may also flaunt it! Show off your library to your friends by sharing your selections! We've gathered a list of the best websites that offer free EBooks for you.
Top 15 Best Sites to Download Free EBooks
So no more looking for books in random places, traveling to libraries to buy them, spending money, and, of course, feeling terrible about not reading them! Let's have a look at them.
BookBoon, one of the world's top producers of E-books, claims to have over 75 million textbook and business E-book downloads each year. To produce high-quality textbooks and business E-books, they collaborate with industry and academic specialists. All of their student textbooks are available for free download and were written specifically for Bookboon by university instructors.
They are capable of producing high-quality content because they believe in providing students with a low-cost education, which they achieve through employer branding marketing. You can also subscribe to high-quality business e-books for a nominal charge if you are looking for them.
DigiLibraries is an ever-expanding collection of free eBooks. They provide a wide range of publications in digital format, with the goal of providing high-quality, quick, and necessary download and reading services. Simply browse or search for books by title, author, or subject. The eBooks can be downloaded to read on any device and can be read in PDF, ePUB, and Mobi formats, with a daily restriction of 50 eBooks downloaded. It is one of the best sites to download free Ebooks.
FeedBooks is a fascinating service for book lovers that provides a free online Ebook library with great Ebooks to read on any device. They have a large collection of fiction and non-fiction books. Smartphones, PDAs, Blackberries, iPhones, and e-readers are all compatible with these books. They also have a self-publishing option that allows you to create and share your own content. FeedBooks has a unique feature that converts any RSS feed into a PDF file that can be downloaded in a variety of formats.
You may read thousands of Ebooks anytime and wherever you want with Free-Ebooks. Every month, you can read and download 5 free Ebooks as part of your free membership. The only formats available for download are TXT and PDF. A paid membership is required to access the ePUB and Mobi formats. Fiction, nonfiction, romance, science fiction, self-help, business, and many other genres are available. There's also the option of searching by author or title of a book.
Google is usually in our minds when we're looking for something, so how could we leave out Google Ebookstore? Anyone with a Google Account can access the Google Ebookstore, often known as Google Play Books. Google Play Books has a large number of free books.
You can either search for your favorite e-book or explore the Google Play Books store for a large selection of free e-books. To read the book online or on your mobile device, add it to My Books. You may also read your ebook online by uploading it as a PDF or ePUB file to the Google Play Store.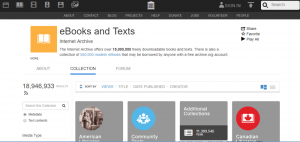 The Internet Archive is a non-profit library, and its Open Library contains millions of free books. Their goal is to make all previously published material available to the entire world.
You have the choice to read, download, or borrow a book from Open Library. They make EBooks available for free in a format known as DAISY (Digital Accessible Information System). Anyone can read the same thing on a variety of devices. You also have the option of contributing to their cause by adding a book to their library. It is amongst the best sites to download free Ebooks.
OverDrive is a free service that allows you to access eBooks and audiobooks from your local library or school. Ebooks and audiobooks can be borrowed at any time and on any device. A valid library card or student ID is all that is required.
Because each library or school chooses the digital content they desire for their users, the content is slightly varied. You can download free Ebooks or audiobooks using their Libby, Sara, or Overdrive apps, in addition to OverDrive.
The World Library is a great place to find free PDF books. These are digitized versions of books that have been designated as public domain. The goal is to bring famous authors' most popular books to today's reading platform.
They publish pdf publications for readers of all ages on a variety of topics, including fiction, non-fiction, academic, and children's works. PDFBooksWorld has designed books with several editions optimized for different screen sizes, such as PCs, Tablets, and Smartphones. To download pdf books from their library, you must first register as a member.
Project Gutenberg provides a good reading collection with over 59,000 free eBooks. You may read free eBooks in ePUB or Kindle format online or download them for free. The website is chock-full of the world's best literature, with an emphasis on older classics.
Many volunteers contributed to Project Gutenberg's efforts to make these books free to read online. There are no costs or requirements to participate, however they do ask for donations or volunteer work, which you can do if you like.
Books can be found by title, author, top e-books, and even by searching the offline catalog. You may even save books to Google Drive or DropBox directly. We recommend you to give this one of the best sites to download free Ebooks a try.
Sharing ebook is a free online library of over 200 books that you can legally download in PDF format without having to register. Because PDF files are viewable by practically all document readers and ebook apps, this is a convenient option.
Philosophy, fiction, travel, psychology, art, business, politics, business, language learning, free comics, self-help, and biography are among the categories listed. You can manually search for ebooks that fall into categories that aren't displayed. Users may also sign up for the newsletter to be notified when new books are added.
Snewd is a free ebook Open Internet Project that aims to supply the public with high-quality, free eBooks sourced from prominent platforms such as Project Gutenburg. It collects raw files from public domain books, prepares them, and then edits them into professional-looking eBooks.
As a Snewd user, you can sign up for their mailing list to receive updates on new titles, as well as contact them directly with any questions. You'll also discover that the user interface is simple to use.
CrazyBooks is an online library where you can either purchase books on Amazon or download them for free by creating a free user account. You can offer direct comments to the site's managers, browse books by categories, and search for books by title and author, much like the other options on this list.
Given that all of the categories used thus far are art, fantasy, biography, religion, science, and history, this service appears to be a new endeavor. Nonetheless, it offers a simple user interface, and the books you're seeking might just be there.
ArdBark is a link discovery service that directs readers to a number of different ebooks. It operates as a repository for a variety of links available online and does not host any files on its servers, unlike the other options on this list. ArdBark has connections to approximately 7000 ebooks in a variety of genres, with free and non-free ebook content available only to Ardbark Pro, Ardbark Basic, Ardbark Beginner, and Ardbark Gold users. If you are unsure about committing to a membership, you may register for a free 7-day trial. You have the option to cancel at any time.
Free-eBooks.uk is another dependable source for free ebooks and audiobooks, with over 100 now available. The books are accessible in ePUB, Kindle, TXT, and PDF formats and are divided into fiction, non-fiction, textbooks, fiction audiobooks, non-fiction audiobooks, textbooks, and children's books. One great feature of Free-eBooks.uk is the ability for users to preview titles before downloading them.
ManyBooks was founded in 2004 and currently has over 50,000 free eBooks. Their goal is to provide a free digital library with a large number of books. The majority of the novels are classics. Authors that self-publish can share their work with the ManyBook community. Every day, new books are added to the ever-growing library of ManyBooks. A book can be read online or downloaded in PDF, ePUB, Mobi, and other comparable formats. You may sign up for their email to receive notifications of new free and cheap eBooks. It is the last name on our list of the best sites to download free Ebooks.
Conclusion:
We conclude our list of the Best Sites to Download Free EBooks. You can visit these sites whenever you want. Dont forget to send us your suggestions. Goodbye!