FreeNAS is a platform that allows you to share content across multiple platforms like Windows, Linux, and Mac OS, which is an excellent opportunity for the users. It is amongst a well-known open-source application based on network-attached storage (NAS) system. If you are looking for the best FreeNAS alternatives, this article will help you a lot.
This tool is famous because it is entirely free and allows all the features without losing your pocket. The procedure is simple first install this on your system, and then use it to share data over a network.
Top 10 Best FreeNAS Alternatives in 2021
However, some users may not like FreeNAS due to multiple reasons, or if it fails to meet your needs, you may look for its alternatives. You will find a massive number of open-source software network-attached storage systems available on the internet. Our experts have compiled a list of the best FreeNas alternatives that you can use right now. Let's have a look at the list given below.
OpenMediaVault is one of the best FreeNAS alternatives, an excellent network-attached storage solution for small-scale businesses. It is famous for its wide range of valuable features and accessibility features and is compatible with Debian OS. The OpenMediaVault tool includes a user-friendly interface with better understanding. This tool also allows you to get rid of network-attached storage problems. Using this tool, you can get so many services such as BitTorrent client, FTP, CIFS, SSH, DAAP Media Server, SMB, and more.
UnRAID is another site that works similar to FreeNas, and it offers a network-attached storage system, UnRAID virtualization host, and the UnRAID application server.  This is why we have placed it in our list, and in a singular OS, it provides all required and certain functionalities and capabilities that you expect from an ideal management system.
Some of the essential features include backup of data, UnRAID system partition resources, storing and protecting data, easy access to their applications data, and more.
BarracudaDrive is a perfect replacement to FreeNAS that a personal cloud server development service. With this tool, all the enthusiastic developers can create their own personal NAS cloud storage system and share large and huge data files with others very efficiently. You will get all the modern and required features that come as built-in on this site.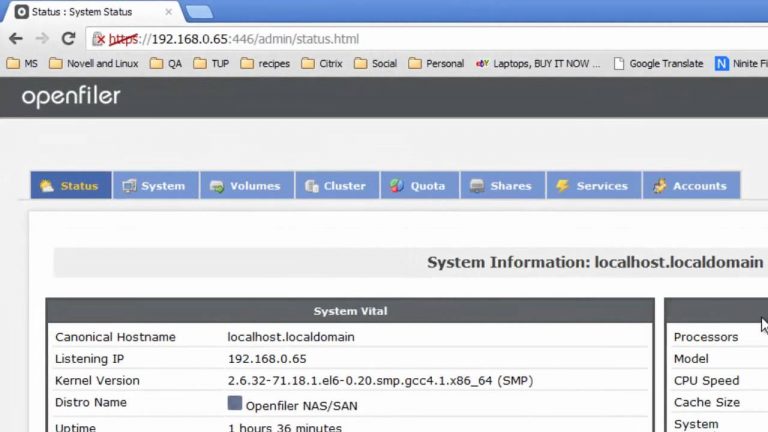 Openfiler is another name to replace the FreeNas, and this unified storage system arrives with many useful features. Such features include cost-free storage capacity expansion, NFS, HTTP, CIFS, all new NAS features and FC, iSCSI all SAN features, and much more. They have recently embedded a web-based management system and block replication LAN & WAN and much more to serve you the best. We will recommend you this best open source storage management system to manage your required work.
Rockstor is another one of the best open-source intellectual-based intellectual network-attached storage solutions. It performs as the most reliable NAS cloud storage system, which is CentOS based mechanism. The Rockstor service allows you to make your personal NAS cloud storage management system easy and straightforward. You can give this tool a try because it is totally free.
Its name is pretty similar to  FreeNAS, and if we dont place it in the list of best FreeNAS alternatives, it would be considered blasphemy. It is the most famous service in the networking management solution world that is compatible with standard operating systems. Many users call it the commercial version of FreeNAS because of similar features.
TrueNAS is the best solution for iSCSI and SMB for block storage and NFS, CIFS for file storage. It is a very easy-to-navigate tool, and you can understand it even if you are using it for the first time.
NAS4Free is the name that often comes to mind when thinking of replacing the FreeNAS. It is FreeBSD based system that is a perfect choice if you are ready to work on it as a centralized system and connect it to every server with ease. This service best free network-attached storage system, which is the most efficient and packed with features. Every user can use it to share their PC data storage over an extensive computer network without any hassle.
Windows Home Server is Microsoft's product, and everyone is aware of its credibility without us telling them. It is a specially designed home server operating system for all Windows operating systems worldwide. This tool provides many services that emphasize providing solutions for connected Windows PCs in the home system conditions. You will find it a decent replacement to FreeNAS to use for an automated backup system, remote access, file sharing print server, and more. However, it is a bit outdated and still based on Windows Server 2003 R2.
ZFSguru is for the newcomers, and it is a very user-friendly server variant that provides users easy and quick access to data. If you have a complex and massive amount of data, you must ZFSguru try to manage chunks of data efficiently. This tool operates as the best multi-functional server appliance and delivers a fitting and decent storage management system. What makes it better than others is its remarkable interface, and you can perform all the operations in the first attempt.
Finally, Amahi is the last name in our list of best FreeNAS alternatives and can be the best solution to simplify your home network.  The main focus of Amahi service is to facilitate home networking and provide you best performance.  You can access it in the medium of application server software, media, and home anytime you want. This tool is feature enriched and can perform so many functions, and you can use it as the backup system for all medium and small-scale networks.
Conclusion:
We have created a list of the best FreeNAS alternatives to provide you with the sites to efficiently compile and share your data. Since FreeNAS works perfectly, we would recommend you to use this tool, but if for any reason you dont want to use it, go for the alternatives. You can choose anyone based on your quantity of data and all other network requirements. Viewers can suggest us other names missing from our list. Until the next time. Goodbye!